Upcoming Events
This year marks 20 years of funding treatment support for Maryland's breast cancer families. Sights are set on raising $550,000 this year and touching more than 700 families. Check out these upcoming Red Devils events. If you would like to organize a fundraiser to benefit Maryland breast cancer families and honor this milestone, please contact us by phone at 410.323.0135 or email at events@the-red-devils.org. Whether you buy a ticket or build your own, you're playing a vital role in caring for a breast cancer family. Thank you!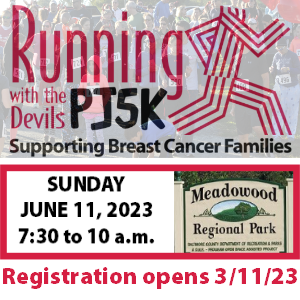 Running with The Devils PJ5K
Sunday, June 11
7:30 - 11 a.m.
Meadowood Regional Park
Join us for this year's Pajama Party benefiting Maryland breast cancer families. Your registration for this year's PJ5K walk and run will help save the life of a patient living with breast cancer. Join us at Meadowood Regional Park or participate remotely.  There are no excuses allowed for not being a part of this family fun and dog-friendly morning in the park. Don't let anything stand in your way of helping a breast cancer patient get the transportation, family support, and assistance with medical costs they need to make it through their journey.